Category Archives:
Food Findings
Any posts about food related things
A bunch of people have asked how Whole 30 is going and how I'm doing….a few have assumed my silence means I failed. LOL. I'm happy to say I did not fail! I did cheat a bit – but I did not fail. I lost 16 pounds in 30 days – which is pretty phenomenal!
Overall it was pretty amazing. I had no idea how few veggies I was eating….or how much processed crap I was eating! I also didn't realize how often I turned to carbs for cravings, bad days or boredom. Carbs are my consolation blanket. I can't say I'm completely over my cravings for cupcakes – but I can say I will never go back to a gluten filled diet. Ever!
I focused on the healthiest options possible every day – and I found ways to make veggies work for my life. I don't have time in the morning to roast vegetables and pack lunch. Hell most nights I end up working later than I should and packing lunch becomes a "shoulda done" before bed  (a post for another day). So instead I go to Whole Foods Saturday or Sunday and I roast veggies for the week then bag them up individually. Yes, I do realize tupperware would be more ecologically friendly – but I end up not washing it, forgetting it at work or in my car and wasting money. Plastic bags, for the win!
Some of the veggies I simply cannot live without: raw peppers with olive tapende or just plain  -YUM! Spaghetti squash with pesto – oh em gee – SO good! Seriously, an awesome substitute for pasta. No it doesn't *taste* like pasta – it tastes like squash – but it LOOKS just like pasta! Perfect. Oh and of course, cauliflower- especially purple (which they had at Whole Foods and was all the rage this week in my lunch). Love cauliflower!
So how did I cheat? I had dairy – both cheese (yum) and half and half in my coffee. Oh and I had coffee. I'm sorry, I can't live in a world without coffee. I know the book tells you that's crap – but it's not. The caffeine withdrawals were awful. I couldn't function one day because I was in the midst of carb flu and without coffee. If anyone decides to do this experiment – make sure you're not traveling….or in back to back meetings.
I will also add that detoxing off a processed food laden diet is horrible, I was nauseous, I was dizzy, my thoughts were jumbled but I also was weak. I got muscle cramps places I never get cramps when exercising – and I was sleeping horribly.
Most importantly -  I don't WANT to give up coffee. I have one Venti iced coffee with cream daily. That's it. I'm not drinking it all day long and I'm not willing to live without it. Some things are worth fighting for!

So what will my May challenge be? More of the same, with a twist. May I'm back to traveling – Phoenix, LA, Dallas and maybe a local trip down to CT. I need to be ON m game. No gluten. Lots of veggies, lots of lean protein, fruits. Oh and lots of moving.
Thankfully I have a little challenge to keep me motivated! Stef Sweeney is hosting a Bikini Buddy Challenge (thank god no ACTUAL bikinis are required – I'm a LONG way from there) and I signed up with my girl Layne. We are team Cantaloop Cuties – inspired by our favorite 90′s song ever: http://www.youtube.com/watch?v=JwBjhBL9G6U
The rules are super simple:
1) Pair up with a buddy.
2) Arrange a time to meet with me (before/after class, etc) to get your beginning measurements taken.
3) Pay $10 each – $5 registration fee; $5 to go into the Winners Pot.
4) For the next 6 weeks, get your booty into gear!! Stay on top of your working out/being active, eating healthy, drinking water, etc.
5) At the end of the 6 weeks, measurements will be taken again. The team with the most inches/body fat lost WINS ALL THE MONEY FROM THE WINNERS POT!!!!
So gluten-free, veggie heavy diet plus lots of Zumba and cardio (more about my new favorite cardio in the next post!) = Awesome track for getting myself slimmed down!!
Wish me luck – I feel like I've finally got a secret formula down for success – I'm looking forward to having a healthy summer!
Week one of Whole 30 is in the books! It was rough, I can't lie. I'll highlight the finer points in bullet points, because I love a bullet point!
*The first three days I was convinced I was going to die. Let's just say I grossly underestimated how much processed food I was eating. My stomach didn't take well to fresh foods and veggies. By day 4 I definitely felt like my system "got it" and it was easier. Upping my water intake helped. Taking it easy on the exercise front helped too.
*Long term I can live without gluten. I feel better when I don't have it and the "missing it" is truly mind over matter. Lettuce wraps taste better and crunchier to me than regular sandwiches. Pretty sure I had lettuce wraps 4 times this week. So good! (note to self: snap pictures next time).
*Long term I cannot live without ice cream. I miss it. My favorite ice cream stand (Kimball's in Carlise) opened for the season and their ice cream is just to die for – so fresh and tasty. I will definitely incorporate this back in next month – as a treat for occasions!
*When you focus on whole, natural foods you really notice the flavor. I love artichoke hearts marinated in buffalo sauce but I was drowning them in blue cheese before. Now I have them with orange peppers and spinach, no dressing – delicious! One of my best combos was Saturday night. I tried to emulate a salad I had at Craft in LA -  hearts of palm, roasted red peppers, avocado and roasted chicken(I added this, it wasn't in the original) with a squeeze of lime juice. Incredibly tasty and filling! I wish I could have an avocado tree in Boston – that's how much I love avo!
*Whole 30 talks a lot about curing disease through food. I can't say for sure any of my ailments are cured but my skin seems less dry, my plantar fasciitis seems to be under control (stretching helps too!) and I have more energy. Can't wait to see how I feel in the next few weeks!
*Prepping is KEY. I think anytime I've failed at weight-loss in the past can be attributed to lack of planning. Saturday we grocery shopped (Whole Foods for fruits/veggies, Market Basket + BJ's for everything else). Sunday I prepped. Roasted, washed, cut, bagged and planned for the week. In the fridge I have ingredients for chicken Thai lettuce wraps (enough for 3 lunches), enough roasted cauliflower and broccoli for the week (lunch or dinner), grilled chicken breasts, sliced peppers for dipping in guacamole, strawberries hulled and popped in the freezer for smoothies and sliced salad ingredients ready for a protein. Fruits (er veggies) of my labor:
*Whole truth  – I cheated. I love Starbucks iced coffee. LOVE. With cream + 1 sugar. I tried coconut milk, I tried almond milk, I tried black – I can't do it. I need to conquer this – but if it's the worst, I'm pretty proud of myself!
*Best part? I noticed my sugar craving are waning. Tonight I wanted sweet. I needed sweet. I did not resort to chocolate or ice cream – instead I opted for some fresh fruit – kiwi, raspberries and blueberries. It hit the spot!
My best friend Julie is trying it starting tomorrow. I can't wait to compare notes with her. Anyone else just start it? Email me, I'd love to hear about your experiences! sparklyandslimming@gmail.com
I'm all prepped for week two and ready to get some exercise back into my life. Lots of cardio this week and hopefully a strength training class or two are on the docket.
Looking forward I'm trying to figure out how I can keep this up when I travel. I think it will require finding a hotel with a fridge and doing some grocery shopping – which I'm certainly not opposed to doing – it's just not always an option depending where I'm staying. I'm thinking I'll have to get creative!
I have been chatting away about life and love over at my new nook on the interwebz – but I decided to pop back here for a chat about my new nutrition focus. Tomorrow I am launching into 30 days of "Whole 30″ – you can read all the details here. Here are the basics:
What is the Whole30®?
Certain food groups (like sugar, grains, dairy and legumes) could be having a negative impact on your health and fitness without you even realizing it. Are your energy levels inconsistent or non-existent? Do you have aches and pains that can't be explained by over-use or injury? Are you having a hard time losing weight no matter how hard you try? Do you have some sort of condition (like skin issues, digestive ailments, seasonal allergies or fertility issues) that medication hasn't helped? These symptoms may be directly related to the foods you eat – even the "healthy" stuff. So how do you know if (and how) these foods are affecting you?
Strip them from your diet completely. Cut out all the psychologically unhealthy, hormone-unbalancing, gut-disrupting, inflammatory food groups for a full 30 days. Let your body heal and recover from whatever effects those foods may be causing. Push the "reset" button with your metabolism, systemic inflammation, and the downstream effects of the food choices you've been making. Learn once and for all how the foods you've been eating are actually affecting your day-to-day life, and your long-term health. The most important reason to keep reading?
This will change your life.
I just finished "It Starts with Food" and I feel like I need to try it. I need a life change!
So what can I eat?
* Lots of fruits
*Lots of veggies
* Lean proteins
* NO eat sugar, alcohol, grains, legumes, dairy or processed junk  (also known as most of my current diet)

Sounds crazy eh?  I'm excited. It's the butt-kicking I need.
Now, I know dairy is not bad for you – but the program cuts it out and I think I can live without it for a month. Maybe.
  (No cheese? Bah…maybe not)
What made me try this? Straight from the book and the website:
Here comes the tough love. This is for those of you who are considering taking on this life-changing month, but aren't sure you can actually pull it off, cheat free, for a full 30 days. This is for the people who have tried this before, but who "slipped" or "fell off the wagon" or "just HAD to eat (fill in food here) because of this (fill in event here)." This is for you.
It is not hard. Don't you dare tell us this is hard. Quitting heroin is hard. Beating cancer is hard. Drinking your coffee black. Is. Not. Hard. You won't get any coddling, and you won't get any sympathy for your "struggles". YOU HAVE NO EXCUSE not to complete the program as written. It's only thirty days, and it's for the most important health cause on earth – the only physical body you will ever have in this lifetime.
—-
I need some tough love! I need some butt-kicking.
This is my fruit bowl right now (usually empty):
Had I not just bagged up all my veggies I would have snapped a picture of those too!
Breakfast is going to be challenging – I love oatmeal. Love it. No oats. No dairy (cottage cheese, yogurt) so I decided to go with a fruit smoothie made with a bit of coconut almond milk and this:
Hopefully it's tasty – we'll see tomorrow!
I'm already going to call it – not having my iced coffee with cream and sugar is going to be the hardest. I love me some Starbucks! Send me some willpower friends, I'm going to need it.
I'm going to snap a before picture before work – we'll see if you guys notice a difference in 30 days!
2 weeks without blogging make me a sad panda! Sorry guys, I had a ton to say – but I never found a half hour to sit and write it all down. Ironically I'm wide awake @ 3am on Sunday morning this jotting all this down on my Blackberry. Eh, such is life!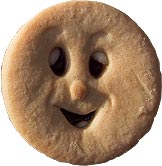 Right before I left for 2 weeks in LA I started reading up on gluten-allergies. I don't think I have celiac disease – but I do think I may have a sensitivity to gluten. All the things I've ignored for years (stomach aches, bloating, cramps) can be attributed to gluten! Who knew?! I started chatting with friends and friends of friends (Judy!)  and time after time the book "Wheat Belly" was mentioned. So here I am in LA realizing just how much gluten I eat (oatmeal, sandwiches, crackers, pita chips, baguettes w/ soup…) – the list was INSANE. One of my LA co-workers and friends, Darren is gluten-free. I bombard him with questions for days (poor guy). Then I'm at a dinner party he and his gf are hosting and I stop in the hall to chat with someone – staring at me from a bookcase is a copy of "Wheat Belly"! So I borrow it – and man is it ENLIGHTENING! I highly recommend it. Speaking of – I need to mail that back. LOL!
The author jokes that as a society we are obsessed with wheat. So much so that he could have called the book wheat belly or biscuit face or pretzel butt. Biscuit face me me giggle.
Rather than try to go 100% GF in Los Angeles, I decided to try tracking my food in regards to what I ate with gluten and how I felt after. Indian without the naan? No stomach ache! (Side note: I always thought it was the spices in Indian that made me feel yucky – now I wonder!).  Mexican w/ tortillas + chips? Stomach ache. London broil with parsnip/cauliflower puree and asparagus? No stomach ache. Flatbread pizza with garlic, pesto + pine nuts? Cramps, stomach pain + horrible bloat the next day. In fact the pizza (from 800 degrees) was phenomenal tasting but I actually woke up in the middle of the night feeling like I might die. So the meals with gluten gave me the sicky feeling?   Hmmmm I might be on to something here!!
Like I mentioned, I've always had these yucky stomach feelings but I've ignored them – or chalked them up to something else (sensitive stomach, waiting too long to eat, hung over from the night before). Now I'm thinking I actually was suffering from a wheat hangover! My go-to foods are always carbs – bagels w/ cream cheese, crackers and cheese, cake (and cupcakes), pasta with sauces and garlic bread. I am *addicted* to wheat! And honestly, I think most of America is!!
So how did I do with the rest of my challenges in LA? Good I think. You guys know dessert is my weakness – well I only indulged 3 times in 13 days! Once I split a brownie and twice I had crème brûlée. Not bad. I even avoided a delicious looking piece of coconut layer cake and a mocha fudge cupcake! I did indulge in wine – but at 125 calories a glass its a far better caloric choice than coconut layer cake at 600 calories a slice!

) Exercise? Yeaaa well I did OK. I walked my ass off. I got 10,000 plus steps EVERY day – win! I only got 2 gym workouts and 2 barre workouts in – not my best effort.  I stuck to my calories nearly everyday but I sucked at getting my water in – shocking given that's usually the easiest thing for me! I definitely felt the effects of that all weekend. I was retaining water terribly and felt like the marshmallow man. Awful. I'm happy to say today I'm back to 100% (and looking forward to a barre ASS KICKING from Jess tonight in legs – yeah!)
I am sad to say I fell off on elf4health – a few of the challenges while I was away were near impossible. Clean out your fridge? I'm in a hotel – no fridge. Planning meals? Eh not really plausible when you're at a customer's facility at their mercy for meals.
  But, no excuses! Onward – upward!
This weeks challenges are:
Monday, December 17  Do a circuit workout today!
Tuesday, December 18  Treat yourself to something you've been craving!
Wednesday, December 19   Bake cookies! Find a healthier recipe to try or make some healthy swaps to an old favorite
Thursday, December 20  Winter is the perfect time for casseroles! Make a casserole for dinner tonight. Add extra veggies and go easy on the cheese and sauce.
Friday, December 21  Pay it forward! Do something nice for someone else.
Saturday, December 22  Going to a holiday party? Eat a snack before you go, choose water and split dessert
Today's circuit may be this one:
Saturday is Derek's birthday dinner – I think we're doing a family thing at a nice steakhouse so I know dessert will be tempting! That challenge falls perfectly.
Oh and I have a new elf for last week and this week!  She is an American living in Kuwait! Check out her blog here: Jessie Loves to Run
Shout-out to my previous elf, Christy whom I've kept emailing. So cool to meet people from other walks of life!  Seattle scientist mom of 2? Not someone I'd normally encounter ~ now I'm glad I did!
So, now that I've read "Wheat Belly" and survived 2 weeks of travel what's next? How can successfully avoid gluten in the coming weeks during holiday chaos? Compromise. I know I shouldn't eat potatoes – but I *really* shouldn't eat garlic bread. I can keep within my number + still feel satisfied without all the carbs – I know I can! It's going to take some thought – because carbs are my default food. But, I think I've got this. I'll be interested to compare how I feel (and what I weigh) a month from now!
Have any gluten-free recipes/foods you love? Please send them my way! I'd love to hear about new foods (or new combos) I need to try. Have a "Is there gluten in this food?" Android app? Please let me know!

Editor's Note: I've been sitting on this post for about 2 months. It's sad for me to admit, so it was harder to post than I thought it would be. Please be kind with your comments.
You know how you can replay a memory in your head and remember what you wore or exactly what the other person said? Well I can literally look back at all my memories and tell you what I was eating. It's kinda scary actually! I was joking with my brother and my mom that all my memories from childhood are tied to food (trips to Canobie Lake with ham and cheese calzones for lunch and hotdogs/french fries with malt vinegar for dinner), day trips to NH and stopping for lunch at this place called Neil's (OMG the best peanut butter pie ever, sometimes I dream about it). I remember all my birthday cakes (or graduation cakes ~ like the "Snow Queen" cake from Rosie's Bakery in Somerville I had when I graduated college in 2003. Golden butter cake layered with raspberry preserves and vanilla butter cream and frosted on the outside with vanilla butter cream Mmmmmm!).  I remember all the special meals I've shared with friends and I can literally tell you exactly what I ate and where before I can tell you how I felt, what was going on in my life etc.
You know where you were when JFK got shot? I know exactly what I was eating on my 29th birthday ~ right down to the chocolate layer cake with ganache.
Is that creepy?  (Don't feel bad if you're shaking your head yes.).
Looking back I think around age 8 or 9  I turned to food to soothe my unhappiness about being chubby….which in turn made me chubbier. It was a vicious cycle. I can't say "oh food was only friend". No, I always had friends. I was always "happy" but I feel like in hindsight something was always missing and I filled that void with food. I still don't know what that was. I can't tell you why I chose to overeat, why I chose food over activities or food over friendship – but I did and it really makes me sad to not only recognize but to admit out loud.
I guess if I was perfectly honest with myself….I was (am?) a food addict. I blogged about the topic once before and I thought I would have some clarity by now. But I don't. I'm still puzzled.
I joke that I am a fat kid at heart, but I think it's more than that.
I liked food. I loved food (sometimes I still do). I turned to it in order to mask the emotions I was feeling. I used food as my drug to subdue the negativity of being a teenager in limbo like all teenagers are (or a twenty-something still unclear about her path in life).  Oh wow, there we go … that's progress. Some people mask their emotions with sarcasm (I do that too – but not as much as I used to), drinking (negative. Enjoy a cocktail with dinner, never had a drinking problem and never drank to mask emotions) or drugs (big no)….but I did it with food. I ate when I was happy, I ate when I was sad, I ate when I was angry….(you get the idea).
Food was a universal constant in my life.
That universal constant is now embedded in my memories. Like when you hear a song and suddenly you're flooded with a rush of emotions and images of somebody that you used to know (or love). You are literally stopped dead in your tracks, reliving a time that has long since passed in a way so tangible you can almost feel it.
That's how I feel about food.
I drove by a carnival in LA last week. The sights, sounds and smells hit me at once and I was struck my the memory of being 14 eating funnel cake/cotton candy until I could barely walk – with my best friend whom I swore I'd never lose touch with. Now she isn't even a blip on my radar but I still have the fat memories to relive.
Sometimes I wonder if these memories will be with me forever, like stretch marks. Will I always associate food with events? Will I always remember what I ate before I remember details of the evening I shared with people I love? Will food always be my #1 even when I reach my goal weight? Can I somehow overcome this weird bond?
I honestly don't know.
Even today, with healthier choices and only the occasional splurge I can reflect on everything I ate  before I can tell you about the conversations had. I don't like this about myself ~ but I'm also not sure how to change it. How do you re-associate memories? Can you?
I mentioned a few weeks ago that I was doing the Foodie PenPals program hosted by The Lean Green Bean. Well I am super excited to finally announce my cool loot!
So the premise is you get paired up with a stranger and send them $15 of cool treats (maybe local to your region, maybe something you're addicted to – whatever!). I heard about it from Jess, who's bloggy friends with Lindsay. Man this whole blogging sphere is so small and cool!
I sent treats to Nicolle over at Culture Jaunt - check her blog to see what I sent. She had a requirement for healthy items that were free of processed stuff and HFCS. Really made me think!
My PenPal was Erika from "You Just Did What". Super thoughtful, sweet gal from Cali who sent me some KICKASS stuff! Check it!:
My box contained:
*Ginger Pear White Tea (which I am totally using to make iced tea during this scorching weekend!)
*Cherry Cashew Pure bar (which is in my bag ready for my after barre treat on Sunday!)
*Peanut Butter + Dark Chocolate Kind bar (SO DELICIOUS!)
*Trader Joe's Chocolate Almond spread (think Nutella only better. OMG LOVE!)
*Last but SO not least, Fresh roasted blueberry banana granola from a bakery near her house. This was the piece de resistance. I am savoring a 1/3 of a cup EVERY MORNING with yogurt. Mmmmm SO GOOD. Literally addicted).
The program is so much fun I am absolutely doing it next month! Wanna join me? Sign up by July 4th here!
I'm sitting here thinking about last week – the craziness, the PAIN (more on that in a second) and how GOOD I feel today.It's amazing. I feel like I'm finally "getting my groove back" as they say.
So, why was the week so nuts?Hectic work week (every week is hectic – but last week felt EXTRA crazy!). It's still Lent….and I went out to eat TWICE. I wanted dessert SO.BAD. Especially when I saw the first place had crème brûlée. You guys KNOW that is my most favorite dessert of all times right? It pained me to decline. But, in retrospect I feel stronger. I made a goal and I stuck to it – despite temptation! I've mentioned a million times before how I feel like I should be rewarded for good behavior with food. I don't know why I have that attachment – my parents were never in the habit of giving out cookies for quietness etc. This is definitely an adult thing. I guess it ties into "eating your emotions". Food is a reward, food is a comfort, food is WAS my friend! Until I saw this on the book of faces, and I nearly fell off my chair:
HA! Could that be more perfect? I think not.
I printed it and stuck it at my desk. A good reminder for moments when I feel weak.
So, I resisted desserts. Awesome. What else did I do? I got 5 servings of fruits and at least 2 veggies every day (sometimes more!). I drank 100 oz. of water every day (more on days when I had barre!) and I only had coffee twice all week. I feel AMAZING. Legit, amazing. I feel strong and alert – I'm not in a haze (like I sometimes am when I opt for a junky breakfast and a Venti coffee). I've had juice/smoothies every morning for breakfast (just fruits frozen or fresh- no sugar, no yogurt, no filler). It's amazing to me how much better your day starts when you're not eating junk.
Why am I in crazy amounts of pain? Barre n9ne and the gym of course! My schedule last week looks like this:
Monday: barre n9ne
Tuesday / Weds: bouts of cardio when possible
Thursday: barre n9ne
Friday: barre n9ne
Saturday: rest!
Sunday: barre n9ne AND cardio at the gym!
I can feel every muscle in my arms….my legs….my abs….every single tiny muscle! Do you know how many small muscles you have? I don't…but it feels like 9 million!
I feel so funny saying this but the secret to weight-loss really is eat less, move more. It's not a magic pill or a quick fix. You have to be committed every day. If you fall off you have to get back on and it's not always easy.
One of my favorite quotes of all times:
"No one said it was going to be easy ~ they just said it would be worth it".
It hasn't been easy to be so "good" and not fall victim to junk – but it will be worth it in the long run. I have to remind myself everyday that little changes yield big results. This week I am focusing on fresh and natural ingredients. Nothing in a box, nothing with preservatives and no coffee. I'm not sure I can do no coffee….but I'm going to try my damnedest. I also have 3 barre classes and 3 gym dates. Go hard or go home right?
I figure I've been carrying this same fat around with me for so long – enough is enough! Like I said last post- put up or shut up!
Happy week to all – hope you're pushing towards a goal, or finding a way to get yourself realigned if you've fallen off track.
A friend has been hounding me to watch "Fat, Sick and Nearly Dead" for weeks. I finally took his advice and watched it on Netflix streaming (love Netflix) Sunday night. Holy mackerel….I think I want to juice!
Watch the trailer: Fat, Sick and Nearly Dead
The documentary follows Aussie Joe Cross as he does a 60 day juice fast while driving across America. Seeing the amount of obese, food-obsessed people he encountered made me sad. We really are the fattest nation! During his journey he loses 80 pounds in 60 days and meets a ton of people he gets on the juicing bandwagon. Including a morbidly obese truck driver named Phil who is literally close to death. By the end of the film Phil has lost 202 pounds in 10 months. That's insane!
I finish the doc and my first question was "Did they keep it off?"
http://www.runningonjuice.com/2011/08/27/sp-what-happened-to-phil-staples-and-joe-cross-after-fat-sick-and-nearly-dead/
I'm a skeptic, so I had to Google for more info. I normally would have phone my BFF Jewels and had her research it (nickname Jewgle) – but it was mid-Oscars and didn't seem fair to phone a friend.
So, what did I discover?
Why Juice? (from the website):
Juicing offers us many delicious health benefits including a faster, more efficient way to absorb immune boosting nutrients naturally found in fruits and vegetables. It also provides a way to access digestive enzymes typically locked away in the fiber matrix of whole fruits and vegetables. Most commercial juices are processed and lacking in nutrition compared to freshly juiced fruits and vegetables.
How long do you do it for?
The fast is intended for a 10 days but can be extended up to 60. After the fast you eat a micro-nutrient high diet with protein – severely limiting preservatives, processed crap etc.
Why juice instead of eat just fruits and veggies?
The shot in the movie looked like this:
Eat all this at each meal:
or
Drink this:

You would literally be exhausted trying to eat all that!
Are there any risks? Obviously the detox of coffee, preservatives and the sheer cravings are going to be awful. You guys know I love my coffee. LOVE.  I can't see any side effects (except the obvious "detox" from a fruit/vegetable based diet. I guess I would end up low on protein? Will have to consider that.
I couldn't do the whole 60 days shown in the documentary ~ travel commitments would be near impossible. I sorta doubt I could bring a juicer on a plane with me, LOL.  But, I think 10 days would be feasible. Ten days of a juice fast – followed by healthy diet for the rest of Lent. On the website they talk about it as a reboot. Being a (quasi) nerd during the day I know how important computer reboots/resets are. I can see the same parallels with our bodies. You go-go-go and jump into diet after diet – fall off the bandwagon – gain more than you lost – lather, rinse, repeat. You never stop and say" timeout! let's start fresh". Unless you contract the bubonic plague and are quarantined for weeks….but I digress!
Whatcha think?  Has anyone tried it before? Results to share?
Juice recipe:
Phil Staples Juice Recipe
✦ 1 Bulk of Kale
✦ 4 celery stalks
✦ 1 cucumber
✦ 2 apples
✦ 1/2 of a lemon
✦ lump of Ginger
Truth be told, the green drink sounds kind of gross. I can't lie. But. I'm willing to give it a shot. If nothing else I'll have an interesting story to share on my blog for you guys!
I've gotten a few emails from folks just beginning their weight-loss journey and wanting advice on where to start. Whether you have 10 pounds or 200 pounds to lose, the same principles apply. There is no quick fix (well there is….but they don't work long-term, hence quick fix. Haha). I didn't think I had that much to say on this topic, but after I typed out my responses I was shocked!
Here are my thoughts on how to start, please add your own!
Food stuff first:
Write down EVERYTHING you eat and drink for a few days/week. Be normal. Don't "diet", just do exactly what you would do on an average day. Plug that data into a website like sparkpeople.com or myfatsecret.com (love this one because it works on my HTC Evo). Your goal is to see how it stacks up to where you should be calorie wise. Don't get too freaked out if it's higher/lower than Spark recommends, just use it as a guide. Look at what you normally do and see where you can make little tweaks. Little tweaks yield big results, honestly.
Now, here are some little tweaks worth implementing into your life!
Don't drink your calories. I used to drink 1000 calories a day, without even realizing it! Orange juice, smoothies, frappachinos….little things add up big time. Most drinks are empty calories. Water is 0 calories and amazing for your body. Embrace H20! If you drink soda – stop. Seriously. Soda is just terrible for you (even diet). Water might be boring for some (my bro!) but you can spice it up – lemon, lime, crystal lite…etc.
I am a super coffee lover – so much so that I could sustain myself on coffee alone. My old beverage of choice was a Venti Iced Mocha w/ Whipped Cream – 510 calories a pop. No lie. That's how many calories I eat for LUNCH now! I was drinking 2-3 of those a day! (No wonder I wasn't losing weight! LOL). Now my Starbucks beverage of choice is a Venti ice coffee w/ a cream and 2 sugars. More on my coffee choice here. Alternate tasty options: Skinny Iced Caramel Macchiato or Skinny Iced Caffee Mocha. (Skinny = skim milk, no added sugar).
Here are 20 Starbucks beverages under 200 calories: http://www.starbucks.com/menu/nutrition/20-under-200
Always try to have protein with your snacks (peanut butter, lean meats, hard-boiled eggs, hummus, cottage cheese etc). You should never snack on carbs alone, they don't keep you full. I will normally have veggie crisps with cottage cheese or grapes, pita chips and hummus etc. Keep snacks handy so you're not tempted by things that won't fill you up. I always have nuts and a granola bar in my purse at all times. KIND bars are my favorite. http://www.kindsnacks.com
When you're buying snacks that are pre-packaged, check out the ingredients CAREFULLY. Avoid anything with HFCS when possible. Avoid ingredients you can't pronounce. Look for whole, natural things like raw almonds, peanut butter made of only peanuts and oil etc.
If you eat out a lot, try getting an appetizer as an entrée and pairing it with a salad. If you're a fast food person – try choosing grilled options whenever possible.
  If you're eating someplace with crappy appetizer options, split your meal in half and save half for lunch the next day (or split it with a friend/significant!). When I say salad I don't mean caesar with cheese and croutons…I mean actual veggies! I prefer spinach salads or minestrone soups personally. I try to opt for veggies over pasta or fries but if no veggies are available to accompany my protein I will go with a baked potato.
When you do eat out, read the menu before-hand. I am FANATICAL about this. If my friends opt to go someplace where the menu isn't online, I Yelp it and see what dishes people have had so I get an idea of what the place offers. Here are words you want to opt for: grilled, baked, roasted, broiled. Words to avoid: au gratin, fried, battered, mayo/aoili (I personally despise mayo with ever fiber of my being, so it works out well that it's awful for you too!).
Articles to check out:
http://www.weightwatchers.com/util/art/index_art.aspx?tabnum=1&art_id=52641&sc=3030
http://www.weightwatchers.com/util/art/index_art.aspx?tabnum=1&art_id=47471&sc=3030
I'm a HUGE dessert fan, and couldn't deal with giving it up entirely. I tried a few things (low-calorie versions of my favorites, having a little of what I wanted etc) and finally decided the best thing for me is to only have something GOOD once a week. I will have fruit, fruity ice pops or an iced coffee on regular nights if I NEED dessert. Some nights it is truly mind over matter. I see dessert on TV so I want it. If I don't think about it, I don't want it. If I'm going out for coffee with a friend and craving dessert, I opt for something small like a Cake Pop (birthday cake is my fav) – 170 calories, 3 bites and delish.  Salted Caramel Squares are rather delish too and only 190 calories.
"The definition of insanity is to do the same thing over and over and expect a different result." – So true. Especially in weight-loss. I cannot tell you how many times I would keep eating the same foods or doing the same exercise and wondering why I  wasn't feeling any different. If you keep doing what you always did, you'll get what you always got (great WW saying).
Now exercise stuff:
First and foremost – find something you like doing. Hate the treadmill? Don't use it! Not a "gym" person? Find an alternative!
I have tried a million workouts – tai chi, yoga, aerobics, Pilates, dancing, zumba, weight-training, cardio classes….the list is longer than my arm! For me, I need something interesting and easy for my body to do. I had a terrible time doing yoga despite being rather flexible, I couldn't get my body to morph into the poses and hold them (because of my fat? Unsure).
My current routine: cardio walking, barre n9ne virtual workouts (and soon to be in person workouts) and strength training at the gym. Those work for me, and I enjoy them. Everyone is different.
If you like workout DVDs, I can recommend a bunch (I should post that list soon!).
If you've never exercised before, buy a cheap pedometer or look for an app for your phone (Run Keeper comes to mind). Go for a walk, track your steps and see where you are on average. The ideal # to hit is 10,000 steps a day. Work up to it like I did. When you're bored with one activity, find another. I am usually someone who only does any one thing a few times before getting bored. Tanya has built the barre n9ne workout for my attention span. She does a ton of different exercises in random order and always throws in new things. I LOVE getting up to work out with her!
Lastly, a few things to keep in mind overall:
Don't call it a diet. Honestly. You end up setting yourself up mentally to fail. You're not dieting, you're making healthy changes to your life.
If you need support look for a community (like Spark or My Fat Secret) and find folks to chat with. If you'd prefer in-person I do recommend WW, although I am not a member anymore I will vouch for the meetings being helpful as a newbie.
Enlist the help of the people closest to you in changing your behaviors. Always get together for trivia, beer and wings on Tuesday? Try eating before you go – and drinking water or a low-cal beer. Letting everyone in your life know you're trying to change may enlist people to change with you (now it could cause them to bitch too – because change is tough…but that's their issue not yours!).
Realize that you will not be perfect 100% of the time. I am an "all or nothing" person, so when I slip up I have a HARD time forgiving myself. Mistakes happen, that's life!
Everyday is a new day to make better choices <— remember that one!
TGIF guys! I hope you all are ready for your long weekends! I know I am.
I started off my 4-day weekend by waking up at the ungodly hour of 5:45am. I thought of 42 excuses why I didn't want to get up! Then I thought about Tanya and how much I love her class and how great I feel after a morning workout … and I peeled my ass out of bed! I'm glad I did, I can see the differences in my stamina already (I can stand in relevé for more than 2 seconds!! I can't believe it!). I feel amazing and I'm excited that each class is different! I never know what tortuous activity is coming next.

This weekend I have a lot of activities planned, but I'm making a concerted effort to incorporate healthy choices whenever possible. I'm heading to The Farm in Lexington to pick up some fresh fruits and veggies (might even try something crazy like a watermelon radish!). I'm constantly reminding myself of my looming self-inflicted deadline of July 8th – but not in a bad way…in a "do you REALLY need dessert? Will it help or hinder your progress? Did you have enough water today?". I am encouraged and so so hopeful that I will see the number 2 9 9 staring back on that scale next week!! Thank you all for your encouraging notes and emails, it really makes my day knowing how many people are in my corner rooting for my success!
A few people mentioned how hard is to avoid over-eating (or drinking!) during the holidays. Here are some tricks I use to help me in social situations where I could be tempted to go crazy.
* Pick your battles. If you want a beer/wine/mixed drink at the event, then aim for eating as healthy as possible. Load up on veggies, salad (beware of the tasty but high-calorie items like dressing, croutons and bacon), eat lots of proteins and limit your starchy carbs (potatoes, white bread etc). If you'd rather have a decadent dessert (like berry, berry cheesecake or a brownie sundae) then you need to limit your alcohol intake. Everything is a balancing act! You can eat everything you want – but not at once.
* Get bouts of exercise where you can. Don't want to gym? Take a walk, park further from the fireworks and enjoy the extra exercise.
   (sidenote: I looove the gym during holiday weekends – it's dead!).

* Last but not least, keep this one in mind: This isn't your last day on Earth. You don't need to have every crazy treat at the carnival or the BBQ…because there will be others. So often I have felt like I needed to eat EVERYTHING around me because "it's a holiday!" or "I might never do this again!"…nah, I'm pretty sure 4th of July will happen again next year! No need to overdose on cotton candy, fried dough (mmmm…), hot dogs, french fries AND milk shakes in one day.
For some kickass healthy recipes check here and here. I highly recommend grilled corn, fresh fruit in any form and quinoa salad.
Oh I've also started reading "The Amazing Adventures of Dietgirl" by Shauna Reed (thanks for the recommendation Amanda!) – I LOVE Shauna…we might be separated at birth we're so alike! The book is hilarious, I'm really enjoying it. If you're looking for a fun summer read, I highly recommend it!
Enjoy your long weekends everyone!!!